News
News from the world of Bristol cycling. You might also want to look at the BristolCycling Reddit social news aggregation site.
Please take a look at our Blog for quick updates.
Click to subscribe to news feed
Published on Tuesday, 25 November 2014 10:04
The November members meeting should be a particularly good one. As well as the usual update, Mark Leach from Bristol Green Capital Partnership will be talking 'Cycling and the Green Capital' and leading a discussion on what we can expect from 2015. We've then got a special guest speaker in the form of Carlton Reid who is well known as creator of ipayroadtax.com, editor of BikeBiz and now author of Roads Were Not Built For Cars.
Fresh from a well-attended presentation to MPs and peers in parliament, author and cycle journalist Carlton Reid will be in Bristol to talk about how cyclists were the first to push for improved roads and, in the 1890s, created motoring. Cycling's role in highway history was consciously downgraded – and, in some cases, deliberately deleted – when the bicycle morphed from the vehicle of rich transport progressives in the 1890s to "poor man's transport" in the 1930s. Carlton's book – Roads Were Not Built For Cars – argues that it's time that Victorian cyclists were given credit for what they helped bring about. 
Phil Cavell of Bike Fit in London said Carlton's talk in parliament was a "superb lecture." The RAC Foundation said it was "interesting." Edmund King, president of the Automobile Association, says Carlton's book will "break down some road ownership issues." CTC chair Professor David Cox said the book is "a major and original piece of work, and a significant contribution to social history. It is also an underpinning for current debates about the urban realm."
The meeting is on Wednesday 26th November at the usual time and place of 7.30pm at Roll for the Soul.
Published on Monday, 24 November 2014 23:07
Here's a useful summary report of the Cyclenation/CTC/LCC conference on 22nd November. 
Amongst others : 
The DfT presentation was positive, comments on the 

Cycling Delivery Plan 

may be made up to 27th Nov, deadline extended.

Birmingham (!) is aiming for a 'cycling revolution'.

Bristol is implementing some good work - John Richfield showed 30 years of progress.

An astonishingly positive presentation from "Chris Kenyon, co-founder of CyclingWorks, explained how their campaign has demonstrated a huge amount of 

business support

 for the proposed North-South and East-West cycle superhighways in London during his inspiring presentation

Waltham Forest's "mini Holland" is moving ahead

Phil Jones explained that "every highway scheme is a cycling scheme": Welsh active travel act

Brian Deegan, Principal Technical Planner at Transport for London, talked about the new London Cycling Design Standards

John Dales, Director at Urban Movement, talked about the long-awaited International Cycling Best Practice Study: "Protected infra; Quiet streets; Traffic-free routes" and no gaps in provision amongst the lessons.

Martin Lucas-Smith of Cambridge Cycling Campaign argued "we must avoid idea of confident and non confident cyclists. Must work for everyone. We don't have roads for non confident drivers".

Lucy Saunders, Public Health at GLA/TfL, explained the new Local Authority health duties.

Kevin Hickman and Rachel Aldred discussed Inclusive Cycling policy.

Roger Geffen talked about Space4Cycling.
Published on Friday, 21 November 2014 13:23
Bristol Cycling Campaign has submitted a response in support of the consultation for a wider path and a new bridge at Merchant's Dock, by the Pump House.
Our view is that this scheme will help make the centre of town more cycle friendly and will improve the existing Harbourside leisure route that is part of Quietway Q10 Promenade.
We are strongly of the view that providing Space For Cycling in Bristol means a network that is largely separated from people walking or driving, except where relative speeds and volumes are low. This should be considered a leisure focussed 'quietway' where separation is not required and we will be campaigning for the Council to produce plans for the F1 Cycling Freeway along Hotwells Road to the Portway as the quickest and most convenient cycling through route. 
Published on Friday, 21 November 2014 10:10
BCyC hosted a very successful CTC training day for campaigners across the South West on 16th November.  There was a top team of CTC officers including inspirational Campaigns Director, Roger Geffen, Roads Justice campaigner, Rhia Weston, and Space for Cycling campaigner Robbie Gillett. 
The purpose of the day was to use the examples and practical campaigning tools of the Road Justice and Space for Cycling campaigns to boost cycling provision in the South West. Of course BCyC is leading the way on both these issues and so we were able to share our experience. The final session set out to answer the challenge of 'what can I, and my group, do now?'
We think this was an extremely useful day and we hope it will be repeated next year.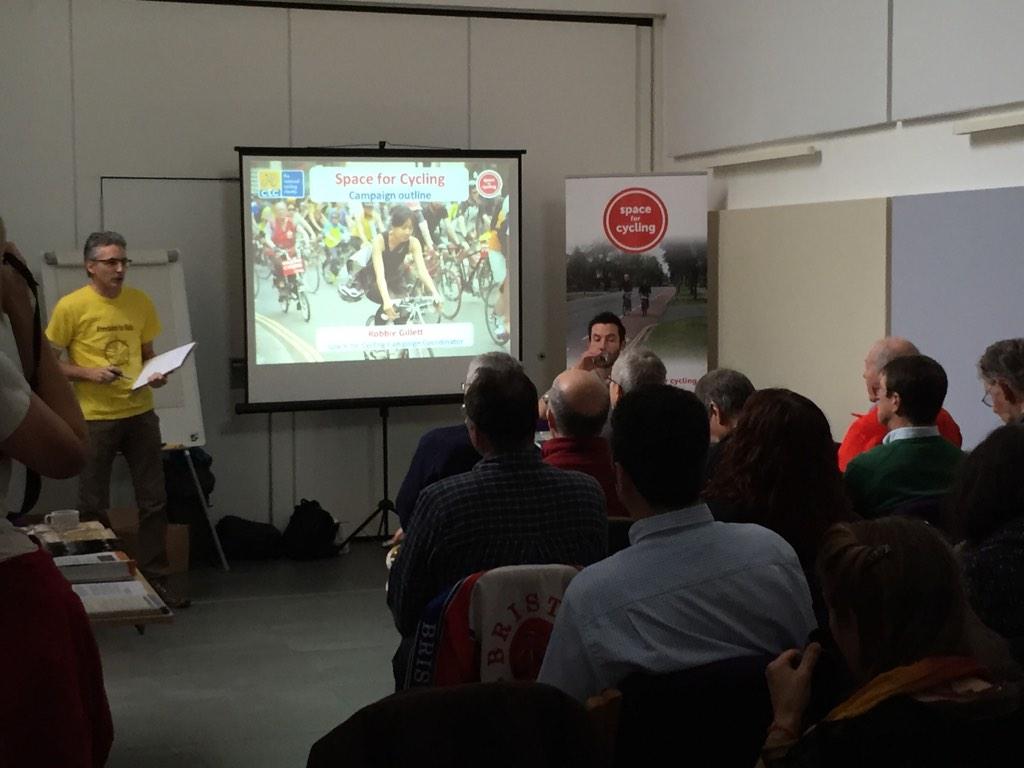 Campaign skills workshops included:
Gaining press coverage for your campaign
Using social media (Facebook and Twitter) in campaigning
Running effective campaign groups
Road Justice workshops included:
Understanding the Legal Framework
Working with the police
Following and attending court cases
Space for Cycling workshops included:
Protected space and decent junctions
Reducing traffic volumes and speeds
Understanding and influencing your local authority
Published on Monday, 17 November 2014 18:30
We were sent this useful report back in the summer with the headline making point that we've hit a tipping point - the majority of under 35s in employment in Bristol choose not to commute by car!!
The analysis is by Jayne Mills of the Performance, Information and Intelligence unit in Bristol City Council and while it is published on the Bristol Council website we've attached it here as these things sometimes go missing ;-)
Headlines:
A typical person who cycles to work in Bristol is likely to be a white male, aged between 25 and 39, with a degree, who works full time in a professional occupation and who cycles to their workplace which is between 2km and 5km away.
People aged under 35 are choosing to get to work by more sustainable modes of transport, with those driving to work by car in the minority.
More than a thousand cyclists commute to work from both Ashley and Bishopston and every ward in the city had at least 100 cyclists commuting to work.
The report will shortly be posted on the BCC Census web page http://www.bristol.gov.uk/census and on the Bristol Research Network sitehttp://bristolresearchnetwork.wordpress.com/. The headline findings will hopefully feed into the next State of the City report. 
PS Commuting flow statistics are due to be published at the end of July, although exactly what we will get is still being finalised by ONS.
This is part of a long term global trend. Read about Peak Car and this Nov 2013 report from the Parliamentary Office of Science and Technology (POST) Peak Car Use in Britain.
Published on Friday, 14 November 2014 21:33
This is a new 'bike lane' on the Jacobs Wells roundabout, a horrid junction for cycling.
Pointless.
And shameful in a city that is now calling itself a 'Green Capital'


The problem is making a safe approach from Hotwells Road - this doesn't solve that at all and might encourage some to use an inside lane (not safe). T
hese lanes put the person in completely the worst position.
We think there are about three and a half people in the Bristol Council who understand 
cycling, and they are hopelessly overstretched.
Other transport planners and engineers are just going through the motions putting in 20 year old designs because nobody has told them to stop and do it properly.
And don't get us started on South Gloucestershire, North Somerset or BANES, who make Bristol look good. 
Published on Wednesday, 12 November 2014 17:11
Conservative and Labour councillors in Bristol have voted to call on the mayor to stop his roll-out of 20mph speed limits on roads across the city. Here and here.
However Mayor George Ferguson insisted the roll-out of Bristol's 20mph zones should continue, saying they "decrease accidents and save lives".
This is another disturbing example of how local councillors and indeed neighbourhood partnerships fail to stand up for the vulnerable and less vocal in our communities in the face of the powerful forces of the status quo (hello, St Georges NP).
As one comment on a news report put it, "spineless councillors have now got cold feet and given in to the insistent whining of the city's petrolheads". Credit to the Lib Dems and Greens for voting against (especially the LDs who have been very poor on the similarly important RPS).
Bristol Cycling Campaign has been calling for city wide 20mph areas since 1991 when it was one of our first campaign objectives.  Over that time the evidence has become much stronger that '20's Plenty where people live, work and play'. Our Bristol Cycling Manifesto states that 20mph is at the centre of creating Cycling Neighbourhoods and must be backed up by measures that remove through motor traffic.
The campaign continues nationally with 20mph speed limits being one of the six ways of creating Space For Cycling. 
The Mayor is doing the right thing for Bristol in pushing through this basic measure that will make all our neighbourhoods safer, more welcoming and better places for everyone.
Published on Tuesday, 04 November 2014 22:39
South West CTC Campaigns Training Day - Bristol
This is in central Bristol, so couldn't be easier. Engaging CTC Campaigns Director Roger Geffen and colleagues from CTC HQ will be joining activists from Bristol Cycling Campaign on Saturday 15th November to inspire us about the national Space for Cycling and Road Justice campaigns, both areas where Bristol is showing the way.
The training day is for anyone who cares about improving conditions for cycling in the South West. People new to campaigning are particularly welcome and stand to benefit most. It's at the St. James Priory Centre near St. James Barton roundabout on the edge of Broadmead shopping centre, and attendance is free. 11am to 5pm. Register for the free campaigner training here.
2014 Cyclenation-CTC Annual Conference
The annual Cyclenation/CTC conference on 22nd November. Bristol hosted this two years ago and Leeds last year. This year's hosts are London Cycling Campaign and the venue will be Lambeth Town Hall. Speakers include London's cycling commissioner Andrew Gilligan Register for the conference here
Speakers include: Andrew Gilligan, Mayor of London's Cycling Commissioner, Rachel Aldred, Senior Lecturer in Transport, University of Westminster, Kevin Hickman, Inclusive Cycling Forum.
Panel discussions with leading figures from across the UK will include: Building political commitment for cycling, Design standards: background and scope for development across the UK
Workshops will include the following topics: Public Health: working with local authorities in their new duties, Accessibility/Inclusivity of Cycling:  towards a Cyclenation Inclusion Policy
Free places!
The first event is free and BCyC has agreed to pay expenses for up to 3 delegate to the Cyclenation conference. As we're keen to encourage more involvement from women, under 30s and disabled, if you want to go then we'll sort it out, even if the three places have been taken.
Published on Friday, 24 October 2014 12:34
On November 25th Bristol Civic Society will be hosting their annual BIG EVENT .....
CIVIC SOCIETY ANNUAL "BIG EVENT" - MAKING BRISTOL'S STREETS SPECIAL
The quality and vitality of our streets  is crucial to a big city like Bristol.  But are our streetscape and public spaces as good as they could be, and how could we make them better ?  Public space is shared by many different users: have we got the balance right ? Is there another way ?  How could we design and manage public space better ?  How can we make the city more walkable ?  How can we make it happen, building on what has already been done ?  A panel of distinguished speakers will try to answer these questions, and there will be an opportunity to air your views.
Published on Tuesday, 14 October 2014 22:49
Tell the Treasury we need #funding4cycling
The Government has put out a consultation on what the UK would like to see in the Autumn Statement 2014, which will take place on 03 December.
We'd like to tell the Treasury that cycling needs at least £10 per head per year invested in order to create the "cycling revolution" that the Prime Minister has called for.
 Fill out the form via the link below with your details and click 'go to next page', where you'll see an email ready to send to the Treasury.
 Time is short: the submission deadline is Friday 17th October.
 http://e-activist.com/ea-action/action?ea.client.id=1689&ea.campaign.id=31520  
 (The £10 is a MINIMUM and needs to build up to Euro levels of c£20 as more and more people choose to cycle - Our Bristol Cycling Manifesto calls for £16 - coincidentally it appears that is being achieved from the DfT one-off funding schemes - but only for another year and beyond that there is no commitment - just a promise.)
Published on Tuesday, 07 October 2014 09:46
Railway Path Closure at Teewell Hill Bridge
Message from South Gloucestershire Cycle Forum

Dear Cycle Forum Members

The railway path at Teewell Hill in Staple Hill will be closed from Monday 6 October for approximately eight weeks.

The essential closure has been scheduled so that our engineers can carry out the foundation works to widen the existing road bridge above the Bristol to Bath cycle and walking route. Last month we closed the same stretch for one day while an old footbridge was removed which had reached the end of its life.

During the upcoming closure, we will construct temporary platforms for the piling rigs to sit on which will allow the foundations for the new bridge widening works to be constructed. The widened bridge will provide new footways once the works are complete.
Published on Tuesday, 30 September 2014 18:41
Many of you may be wondering what on earth is going on with the much trumpeted Clarence Road "Dutch-style" cycleway. The last we heard it was due for completion at the end of August, but anyone passing by will have noticed the Water Works and the River Avon wall subsidence. These have resulted in significant delays to the scheme.
As of Monday morning, the plan was that the Water Works would finish and installation of the "Toby's" separating the cycleway from the roadway up to Langton Street Bridge would start on 13 October and then from the wall excavation site to Bedminster Bridge.
The wall excavation is still live and the wall stabilisation works are unlikely to be finished before February.  Once they have finished the remaining bollards will be installed.  So by March we should have the Clarence Road scheme finished.
By that time other works in the area (the second Langton Street Bridge, some kind of cycle crossing of Bedminster Bridge, shared use cyleway on Commercial Road, etc) should be underway - or even complete! See our article on the Avon Promenades for the overall vision.
Bristol Post article "53 tonnes of stone being used to stabilise River Avon walls in Bristol after high tides"