News
News from the world of Bristol cycling. You might also want to look at the BristolCycling Reddit social news aggregation site.
Please take a look at our Blog for quick updates.
Click to subscribe to news feed
Published on Wednesday, 28 January 2015 15:44
As our local councils are finalising their plans for the second round of
Cycling Ambition Fund
, we've been pushing for inspirational examples of some of the infrastructure we saw during the BCyC Study Tour last year.
We I discussed with you I'm also keen to do something new for both Bristol and the UK: a simultaneous green junction. If built this would be a fantastic win for the whole of the UK, showing that the safe and practical green only phase for cycling can be done. It really would be ground breaking - London doesn't need to have all the glory when it comes to building cycling infrastructure!
John Richfield attended the Bristol Cycling Campaign last year and saw the simultaneous green junction first hand. I've cc'd him in as he's probably the best person in the council to talk to about a junction.
We visited David Hembrow, a British cycling campaigner living in the Netherlands. He has a blog with unrivalled information on all sorts of Dutch infrastructure. 
Here are some more videos by another campaigner showing it in motion.
Published on Saturday, 17 January 2015 17:53
It seems our local authorities have woken up after the Christmas slumber with a host of consultations with very short deadlines. They cover the A38 near Thornbury to the new Enterprise Zone in Temple Gate.
Responding to consultations is core to what we do in campaigning for cycling in Bristol. These consultations are your chance to shape the future of cycling in Greater Bristol, so please check them out on our Consultations page and do respond to any you have knowedge of, however briefly. These are listed with deadline dates and links to the consultation websites. We'll post the official BCyC response as we respond, but please feel free to copy us in with your thoughts so we can incorporate them into our response: This email address is being protected from spambots. You need JavaScript enabled to view it..
Published on Saturday, 10 January 2015 11:46
Once again we've reached a 'perfect storm' - the time when roads and paths are deteriorating and we're approaching the financial year-end when councils want to use up this year's budget. And now the CTC has announced (thanks to DfT funding) an Android version of their wonderful fillthathole app has been released. You can use the app to report potholes, road defects and other forms of obstruction that could be dangerous to cyclists. Reports are then forwarded to the local authority concerned for action. Of course the iPhone version is still available. Our councils are pretty good at responding and action is usually taken within a couple of weeks. The satisfaction of seeing a patch of tarmac with your name on it is unbounded!
Published on Friday, 12 December 2014 16:57
UPDATE: Proposals ratified 24/12/2014 https://www.bristol2015.co.uk/news/green-light-bristol-2015-strategic-grants/
News comes of how the larger funding pots available through Bristol Green Capital will be allocated. Final decisions will be announced on 24th December but
recommendations
to the Bristol Council Cabinet for decision give some early notice. There were 184 applications for the £1.5 million fund, representing 136 different organisations, with bids totalling £8.1 million. Funding from the Small Grants Fund has also been 
announced
, including a number for cycling. 
The table below sets out what the transport 'theme' is intended to deliver, and how the awarded funding is expected to achieve that. Other themes are Energy, Food, Nature, Resources.
Congratulations to the projects (didn't Sustrans do well!).  
However, we remain concerned by the lack of ambition around transport in the Green Capital programme which we consider mainly comes from a lack of engagement by council officers who are stretched thin delivering even what's currently planned.
Transport theme: Our ambition is to make Bristol a world leading city in active travel, where 4 out of 5 journeys under five miles are made by foot, bike and public transport

Deliver improvements to both the price and quality of our public transport networks, making it quick, cost effective and easy to go by bus or by train

 

To increase the use of public transport throughout the city, better connecting outlying residential neighbourhoods to Bristol's Centre and growth areas

 

 

GC116 – Sustrans (Promoting Healthier Transport Choices)

 

 

Make road layout and other improvements in the city to open our streets to people, removing the blight of heavy traffic and improving flows for public transport and those who need to drive

 

 

To trial road layout and other improvements that open the city's streets to people and reduce the negative impacts of traffic on health, environment and social connectivity

 

 

GC111 – Sustrans (Southmead)
GC115 – Sustrans (Streetpockets) 

 

 

Support the ongoing and successful expansion in Bristol of cycling through investment in cycle lanes and other cycling infrastructure, and more cycle training for those who need it

 

 

To improve walking and cycling networks throughout the city to enable more people to undertake everyday journeys to work, schools and other destinations on foot and by bike

 

GC066 - APE Project CIC

GC116 – Sustrans (Promoting Healthier Transport Choices)

 

 

Reduce emissions in the city to help protect people from the harmful gases produced by streets clogged with traffic

 

 

To reduce emissions in the city through support for the transition to ultra low emission vehicles, including accelerated provision of charging/fuelling infrastructure and changes to corporate fleets and public transport

 

GC116 – Sustrans (Promoting Healthier Transport Choices) 

 

 

Promote active travel choices – walking and cycling – as safe and pleasant alternatives to the car

 

 

To support people to change ingrained travel habits by providing and promoting opportunities to walk, cycle and use public transport for everyday journeys, including travel to work and schools 

To provide international leadership in exploring how changes to urban streets and transport systems can benefit a city's environment, health, social connectivity and prosperity

 

GC066 - APE Project CIC
GC007 - Greater Bedminster Community Partnership (Walking)

GC116 – Sustrans (Promoting Healthier Transport Choices)

 
Here's the project descriptions.
 Organisaation
 Reference
 Project
 Description
 Recommended Grant
APE Project CIC 

GC066

 

Children's Bike Exchange Scheme

 

The main focus is on recycling bikes and making them cheaply available to underprivileged children.

 

£49,342

 
Sustrans
 

GC111

 

Southmead Flood Prevention

 

Implementation of flood prevention measures in Southmead. 

£44,100

Promoting Healthier Transport Choices

Engaging people in debating and developing a sustainable transport vision for Bristol.

Sustrans

GC115 

Street Pockets

Develop a modular, freestanding and moveable toolkit to be used by communities to instantly change the feel and use of any street in the city. Projects and designs will be trialled by communities with kit which can then be made permanent. 

£44,100

 
Greater Bedminster Community Partnership

GC007

 

Let's Walk Bedminster

Promoting walking and bringing the community together in Bedminster with series of events. 

£40,000

 
Published on Thursday, 11 December 2014 13:58

Along with campaign groups from the other seven cities who received funding through the Cycle City Ambition Grant, we've sent a letter to DfT about our shared concerns about how these schemes are being delivered. Given that further funding has been announced we've made recommendations for what needs to be done to enable ambitious results.
---
Mr Robert Goodwill MP
Parliamentary Under Secretary of State for Transport
Department for Transport
Great Minster House
33 Horseferry Road
London SW1P 4DR
10th December 2014
Dear Mr Goodwill
Feedback on the first phase of the Cycle City Ambition Grants We write to you as representatives of the local cycle campaign groups in the cities awarded the government's "Cycle City Ambition Grants". The Grants provide a valuable opportunity for these eight cities to begin the transformation into healthy, clean and economically vibrant places which are attractive to businesses and residential populations alike. While we welcome the grants and the opportunity to create a step‐change in the level of cycling provision in UK cities, we would like to highlight some common issues across the projects.
1. Stop-start grants
Consistent, long term and specific investment in cycling is desperately needed to encourage authorities to design and
Published on Friday, 05 December 2014 16:06
Southville Bridge
The first new bridge over the New Cut in over 100 years was approved on Weds. 
The £3.2million Southville Bridge (pdf) will run across the New Cut to reflect the natural flow of walkers and cyclists and has been designed to be both functional and in keeping with other bridges in the city.
It will be the first crossing of the New Cut to be designed with both cycling and walking in mind and serving an area with high rates of active travel. It will run from Camden Road, which will not have motor vehicle access, to Chocolate Path and link through to the M-Shed.
Sustrans Area Manager Jon Usher is project managing the new Bridge. The Sustrans press release says, "Bristol is making significant investment in cycling infrastructure and initiatives to make it a viable travel option, reduce congestion, improve air quality and the health of residents. £11m will be invested through the Cycling Ambition Fund over the next five years building on the £23.6m Cycling City programme between 2008-11."
Objection to Cribbs Causeway plans for 1000 houses without adequate cycling provision
At that same meeting there was also discussion of the impact of plans for 1000 new houses on land at Cribbs Causeway by Haws Wood (map here). This is in South Gloucestershire but the recommendation was to lodge an objection from Bristol due to inadequate transport infrastructure and in particular failure to provide for integrated cycling in to Bristol.  This should deliver the separated and protected part of our cycling Freeway F14 Outer Orbital as it passes through Henbury and Southmead, and the Cribbs area of South Gloucestershire.
The report says, "Walking and cycling - the A4018 does not currently offer an attractive or convenient route for non-motorised forms of transport due to its nature in this location. Whilst a number of alternative quieter routes suitable for cycling will be delivered by the CPNN, namely along Fishpool Hill, Charlton Road and towards Station Road in Henbury, this needs to correlate with improved infrastructure within Bristol to improve facilities and address safety considerations as above."
Objection to Stoke Gifford plans for 550 houses without adequate cycling provision
Also being discussed were plan for 550 new houses behind the Dower House and Stoke Park (map here). Again the recommendation was to object due to failure to provide adequate transport infrastructure and in particular for cycling. Is there a theme here in South Gloucestershire planning controls?
Major developments like these must deliver the elements of the Strategic Bristol Cycling network they will rely on. In this case it's F13 Northern Loop, and the Q3 Frome Quietway (see here).
The report says, 'A scheme was submitted on behalf of Taylor Wimpey to address BCC's concerns consisting of some coloured surfacing and an illuminated bollard in the vicinity of the Duchess Gate with the intention of alerting motorists to cyclists.
"However, this would fail for three reasons. Firstly, its minor nature will not mitigate the impacts of a 12.5% increase in traffic along Frenchay Park Road; secondly it would fail to encourage cycling along what is the last remaining unsegregated section of cycle route between Bristol City Centre and Stoke Park; and thirdly, its piecemeal nature bears no relationship to the more comprehensive strategy needed to mitigate major housing growth at this junction. Indeed the provision of coloured surfacing is irrelevant to such a busy and congested environment to sufficiently alert motorists to the presence of the cyclists, especially outside of daylight conditions, which is the case during both peak periods for five months of the year.
"The submitted scheme also requires that all cyclists are to use the road in this location. Officers find this suggestion deeply flawed and concerning in that it fails to recognise: a) the nature and characteristics of the road as has been demonstrated b) personal injury accident data specifically affecting cyclists at this location and c) the policy requirement to encourage cycling as a safe and viable alternative to car use. Some roads are conducive to cycling, however this junction is certainly is not, handling over 2,000 vehicular movements during each peak hour."
We think these objections are fully justified and we're very pleased that Bristol is putting the pressure on South Gloucestershire to get serious about cycling.
Published on Tuesday, 25 November 2014 10:04
Update: See the live blog (well, it was live at the time...)
The November members meeting should be a particularly good one. As well as the usual update, Mark Leach from Bristol Green Capital Partnership will be talking 'Cycling and the Green Capital' and leading a discussion on what we can expect from 2015. We've then got a special guest speaker in the form of Carlton Reid who is well known as creator of ipayroadtax.com, editor of BikeBiz and now author of Roads Were Not Built For Cars.
Fresh from a well-attended presentation to MPs and peers in parliament, author and cycle journalist Carlton Reid will be in Bristol to talk about how cyclists were the first to push for improved roads and, in the 1890s, created motoring. Cycling's role in highway history was consciously downgraded – and, in some cases, deliberately deleted – when the bicycle morphed from the vehicle of rich transport progressives in the 1890s to "poor man's transport" in the 1930s. Carlton's book – Roads Were Not Built For Cars – argues that it's time that Victorian cyclists were given credit for what they helped bring about. 
Phil Cavell of Bike Fit in London said Carlton's talk in parliament was a "superb lecture." The RAC Foundation said it was "interesting." Edmund King, president of the Automobile Association, says Carlton's book will "break down some road ownership issues." CTC chair Professor David Cox said the book is "a major and original piece of work, and a significant contribution to social history. It is also an underpinning for current debates about the urban realm."
The meeting is on Wednesday 26th November at the usual time and place of 7.30pm at Roll for the Soul.
Published on Monday, 24 November 2014 23:07
Here's a useful summary report of the Cyclenation/CTC/LCC conference on 22nd November. 
Amongst others : 
The DfT presentation was positive, comments on the 

Cycling Delivery Plan 

may be made up to 27th Nov, deadline extended.

Birmingham (!) is aiming for a 'cycling revolution'.

Bristol is implementing some good work - John Richfield showed 30 years of progress.

An astonishingly positive presentation from "Chris Kenyon, co-founder of CyclingWorks, explained how their campaign has demonstrated a huge amount of 

business support

 for the proposed North-South and East-West cycle superhighways in London during his inspiring presentation

Waltham Forest's "mini Holland" is moving ahead

Phil Jones explained that "every highway scheme is a cycling scheme": Welsh active travel act

Brian Deegan, Principal Technical Planner at Transport for London, talked about the new London Cycling Design Standards

John Dales, Director at Urban Movement, talked about the long-awaited International Cycling Best Practice Study: "Protected infra; Quiet streets; Traffic-free routes" and no gaps in provision amongst the lessons.

Martin Lucas-Smith of Cambridge Cycling Campaign argued "we must avoid idea of confident and non confident cyclists. Must work for everyone. We don't have roads for non confident drivers".

Lucy Saunders, Public Health at GLA/TfL, explained the new Local Authority health duties.

Kevin Hickman and Rachel Aldred discussed Inclusive Cycling policy.

Roger Geffen talked about Space4Cycling.
Published on Friday, 21 November 2014 13:23
Bristol Cycling Campaign has submitted a response in support of the consultation for a wider path and a new bridge at Merchant's Dock, by the Pump House.
Our view is that this scheme will help make the centre of town more cycle friendly and will improve the existing Harbourside leisure route that is part of Quietway Q10 Promenade.
We are strongly of the view that providing Space For Cycling in Bristol means a network that is largely separated from people walking or driving, except where relative speeds and volumes are low. This should be considered a leisure focussed 'quietway' where separation is not required and we will be campaigning for the Council to produce plans for the F1 Cycling Freeway along Hotwells Road to the Portway as the quickest and most convenient cycling through route. 
Published on Friday, 21 November 2014 10:10
BCyC hosted a very successful CTC training day for campaigners across the South West on 16th November.  There was a top team of CTC officers including inspirational Campaigns Director, Roger Geffen, Roads Justice campaigner, Rhia Weston, and Space for Cycling campaigner Robbie Gillett. 
The purpose of the day was to use the examples and practical campaigning tools of the Road Justice and Space for Cycling campaigns to boost cycling provision in the South West. Of course BCyC is leading the way on both these issues and so we were able to share our experience. The final session set out to answer the challenge of 'what can I, and my group, do now?'
We think this was an extremely useful day and we hope it will be repeated next year.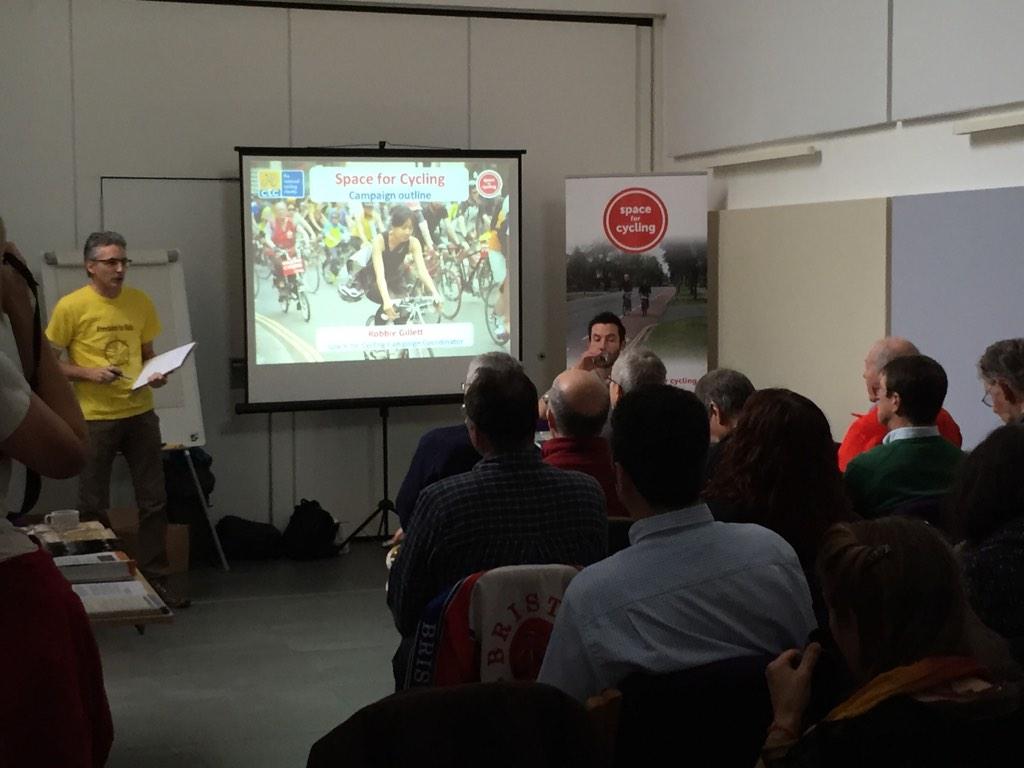 Campaign skills workshops included:
Gaining press coverage for your campaign
Using social media (Facebook and Twitter) in campaigning
Running effective campaign groups
Road Justice workshops included:
Understanding the Legal Framework
Working with the police
Following and attending court cases
Space for Cycling workshops included:
Protected space and decent junctions
Reducing traffic volumes and speeds
Understanding and influencing your local authority
Published on Monday, 17 November 2014 18:30
We were sent this useful report back in the summer with the headline making point that we've hit a tipping point - the majority of under 35s in employment in Bristol choose not to commute by car!!
The analysis is by Jayne Mills of the Performance, Information and Intelligence unit in Bristol City Council and while it is published on the Bristol Council website we've attached it here as these things sometimes go missing ;-)
Headlines:
A typical person who cycles to work in Bristol is likely to be a white male, aged between 25 and 39, with a degree, who works full time in a professional occupation and who cycles to their workplace which is between 2km and 5km away.
People aged under 35 are choosing to get to work by more sustainable modes of transport, with those driving to work by car in the minority.
More than a thousand cyclists commute to work from both Ashley and Bishopston and every ward in the city had at least 100 cyclists commuting to work.
The report will shortly be posted on the BCC Census web page http://www.bristol.gov.uk/census and on the Bristol Research Network sitehttp://bristolresearchnetwork.wordpress.com/. The headline findings will hopefully feed into the next State of the City report. 
PS Commuting flow statistics are due to be published at the end of July, although exactly what we will get is still being finalised by ONS.
This is part of a long term global trend. Read about Peak Car and this Nov 2013 report from the Parliamentary Office of Science and Technology (POST) Peak Car Use in Britain.
Published on Friday, 14 November 2014 21:33
And shameful in a city that is now calling itself a 'Green Capital'


The problem is making a safe approach from Hotwells Road - this doesn't solve that at all and might encourage some to use an inside lane (not safe). T
hese lanes put the person in completely the worst position.
We think there are about three and a half people in the Bristol Council who understand 
cycling, and they are hopelessly overstretched.
Other transport planners and engineers are just going through the motions putting in 20 year old designs because nobody has told them to stop and do it properly.
And don't get us started on South Gloucestershire, North Somerset or BANES, who make Bristol look good.